Punk On Toast: Governed By Imbeciles (T-shirt + CD Combo)
---
T-shirt
Rs. 649
Punk On Toast: Governed By Imbeciles - T-shirt
---
T-shirt
Rs. 499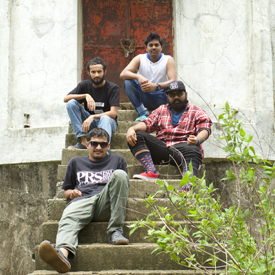 Punk On Toast was formed by Suyog (then drummer), Yogesh (guitarist/vocalist) and Aditya (guitarist/ vocalist) in 2009.
After a few lineup changes, Anand took over the bass duties and Kalidas took over the drum duties.
The new lineup has evolved the sound of the band quite a lot. Punk On Toast played their debut gig at the Stupidditties 5 Album Launch at B69 by Bajaao.
Since then, the band has played and headlined gigs at many top venues in and around Mumbai. The band has also got a great coverage from the Indie Music Channel, Pepsi MTV Indies and Rolling Stone India.
Punk On Toast released a 5-track EP tited "For Hire" on 1st January 2015 which is now available for download on all leading digital platforms, and is now ready with their debut full-length album, "We Abuse A Lot, So What?"