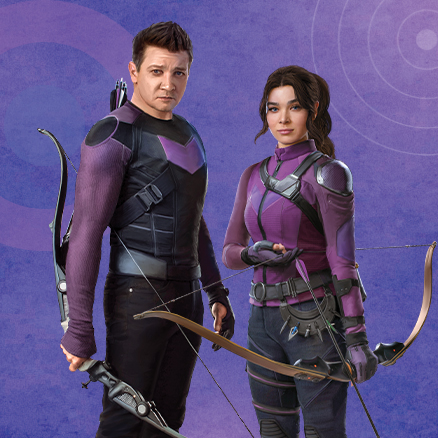 How cool would it be to close your eyes, shoot a dart and have it hit the bullseye!

Can't even imagine that right?

But there is someone who can relate to this! He can literally shoot an arrow through a flying kite at night while riding a unicycle.

No, it is not hyperbole- you will see it when you witness him in action. His name does justice to his skills, he is as sharp and precise as a hawk when it comes to taking his shot, he is Clint Barton- better known as Hawkeye.

"I see better from a distance."

The bad guys of town might as well want to keep their distance because Hawkeye sees everyone and spares no one.

One of the founding members of the Avengers, Hawkeye sure as hell knows what is up with the supers and has proven to be a great advisor to the team.

But, it would be safe to say that sometimes he feels lost too.

"The city is flying, We're fighting an army of robots, and I have a bow and arrow. None of this makes sense."

Even in a situation of peril, Hawkeye knows how to set his eyes on the win!

Check out the Official Marvel: Hawkeye Merchandise brought to you by Redwolf and celebrate this superhero who is an ultimate sharpshooter- in his actions and his words!

With Hawkeye tees, mugs, stickers, and a lot more, you can feel like a protégé of Clint Barton himself!

So, don't delay your journey to be a part of the marvellous team, explore from a variety of Official Hawkeye Merchandise on Redwolf and be a superhero!