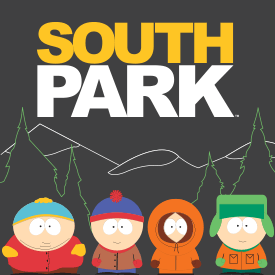 South Park is quite an odd town where it is almost always winter, with snow covering the ground and in this quirky town, the curious, adventure-seeking fourth-grade group of 10-year-old boys and follows the exploits of Stan, Kyle, Cartman, and Kenny, all join in in buffoonish adventures that sometimes evolve nothing.
This small town is filled with odd and funky characters where nearly every organization, law administration, the education system is dysfunctional. Even Jesus runs his own public-access talk show.

Everything is strange in the small mountain town South Park and the boys always find something to do with it.

Show off your love for this classic cartoon with our huge selection of Officially Licensed South Park Merchandise. We offer a unique selection of South Park T-shirts, mugs, coaster and other characters merchandise like. We have designs for the whole South Park Gang including Cartman Badges, Stan Mobile covers, Squad Mugs and many more

Shop our collection of Official South Park Merchandise today!