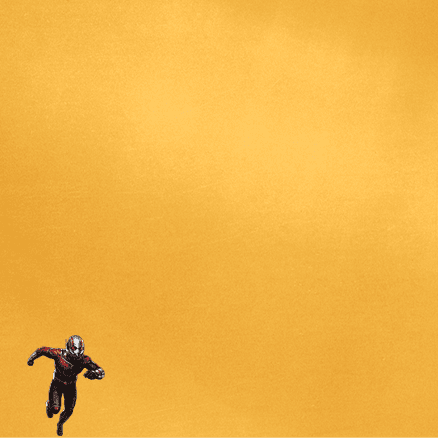 Hey you, yes you! Come closer, and look carefully, can you see what's on Thanos's butt?
An ex-convict, ex Baskins and robbins employee and ex normal guy but now, a superhero!
Scott Lang was always distressed with his personal life. All he wanted was to have a job which did not involve blow torches, black masks, minivans with shady tech devices and be able to provide for his daughter.
But all got was a sh*tty job at an ice cream shop with no store credit. He couldn't make the ends meet. He needed money if he wanted to continue the meets with her daughter. He was willing to get back to the notorious crime days just so that he could meet his daughter.
And one day, everything changed for him. His friend got this tip from a guy who plays softball with a bald dude who is dating a lady who works at this old man's house with a big safe kept secured in his basement.
Scott Lang and his friends attempted to break into the house and steal the safe. He knew everything he had to do to steal the safe, but what he didn't know was the house he was about to rob was not just of an old man. He was Dr Hank Pym, an ex S.H.I.E.LD scientist.
Scott was fooled into breaking in the safe and all he found was a suit. A suit that might seem like a fool's toy but in reality is a device that can bring the whole universe back.
Harnessing the power of Pym Particles, the suit made Scott the man he is today, one of the greatest (and the tiniest) Avengers!
He might be known for bringing the universe back but the highlight for us is his breezy attitude and intriguing mission names!
Antman has always been a favourite for his perfectly timed humour and happy go lucky personality while fighting off the most dangerous villains of the galaxy! Who wouldn't want to be as cool as him?

So, join in and maximize your style quotient. If you are looking forward to being as awesome as him then grab our Official Antman Merchandise, only on Redwolf!