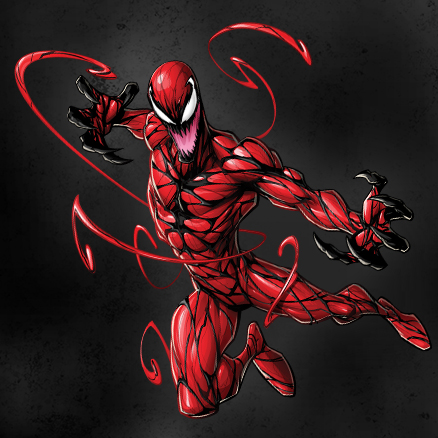 No one in their right minds would think of picking a fight with Venom. But Carnage? It's best to leave that stone unturned.
Carnage is an evil symbiote that branches out of Venom himself, as seen in the latest Venom: Let There Be Carnage movie.
While fans prepared to witness a clash of titanic proportions, we at Redwolf spent days and nights to launch this collection that marvelously portrays the symbiote's superhuman strength, speed, agility, and endurance.
It doesn't take a genius to tell if most of us got a choice between picking Venom and Carnage as our preferred (toxic) symbiote partner, a whole bunch of us would go with Carnage.
Because when Carnage hits the streets, it is like the last thing you ever want to see. You see, he is one of the red ones.
While you may not receive the opportunity to (unwillingly?) host an advanced alien species in your temple of a body, you can still rock something from our collection of officially licensed Carnage t-shirts.
Made from super comfy cotton material, these epic t-shirts latch onto your skin just like the evil symbiote does. Plus they feature the true self of Carnage so that's a cherry on the icing.
Hit the streets in style and look just as good as Woody Harrelson from Venom: Let There Be Carnage!