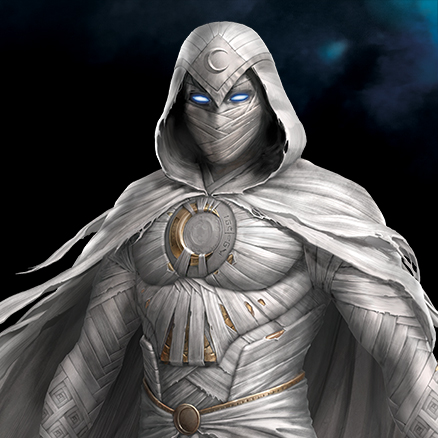 Avatar of the Egyptian Moon God, the bringer of justice and the slayer of Ammit! Prepare yourself to behold the might of the Moon Knight!
Ever met a superhero who is schizophrenic, unemployed, insomniac, and vegan? Well, there's a first for everything because our beloved Steve Grant is a regular working-class layman working his mundane job at the museum gift shop. Well, not totally normal. He does chain himself to a post when he sleeps because not only does he wake up in strange places with no recollection of how he got there, but he also ends up around harming a lot of people around him.
It's not until later that he finds out he shares his body with his alternate identity. Meet Marc Specter, a ruthless mercenary working for the Moon God Khonshu whose fight for justice against Ammit is undying.
Easily the quickest hand-to-hand combatant in the MCU with the power of healing instantaneously from any kind of injury or wound, Moon Knight has become our newest favourite superhero in the MCU! This is why we bring you the coolest of the coolest Moon Knight official merchandise with exciting designs and a wide range of products!
If you're as big of a fan of Moon Knight as we are then you need to check out Redwolf's official Moon Knight merchandise today! Binge-watch your favourite mercenary in action while sporting the coolest Moon Knight merch in town! We bet ya.