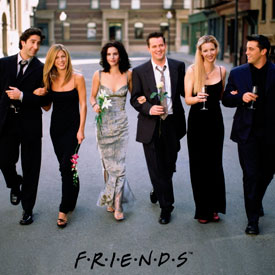 Friends may just be one of the best TV shows that have blessed our life. Joey's pickup lines to Chandler's sarcasm, Rachel's fashion sense to Phoebe's music, Ross's love for dinosaurs, and Monica's love for cleanliness are all things we just can't get enough of.
Yes, that's after watching the 10 seasons after a dozen times!

It's not just the people, but the show managed to make even the most mundane and everyday things iconic. Like the peephole on the purple door, or the orange couch at Central Perk? We've all wished we could spend a day at the apartment or grab a cup of coffee with the gang at Central Perk.

As out of reach as they might be, Redwolf's collection of Official Friends Posters is up for grabs for all fans alike. You could say, our cool Friends products will be there for you.

Friends is the TV show that we all grew up watching. Learning from the characters as they figured out how to get through life. They had their funny, sarcasm-filled, carefree moments, but they also had their moments when they had to sacrifice something to get to their dream. They taught us to not give up, no matter what life throws at us.

If you live and breathe Friends as much as we do then you need to check out Redwolf's collection of Official Friends Posters. We've heard it is sure to get you to exclaim "OH. MY. GOD."