Ahoy, Me Hearties!
Everyone loves a good pirate film! Films starring idols like Douglas Fairbanks as The Black Pirate in the old silent days right up to the phenomenal success of Johnny Depp as Captain Jack Sparrow! They're stories of amazing adventures always bring to life our childhood fantasies of sailing under the skull and crossbones.
The Pirate genre has become one of the most popular genres of film! It is also one of the few genres in which the authorities are the villains. We love to watch the hero get the treasure and quite often the girl as well, with the help of their unforgettable companions, colourful costumes and epic ship battles!
Today, On International Talk Like A Pirate Day, it is only right that we count down the Top 10 Pirate Movies ever made! If you want to find adventure on the high seas, these are the best ones to set sail with!
Caution – These Movies Are Rated Arrrr!
1. Captain Blood (1935)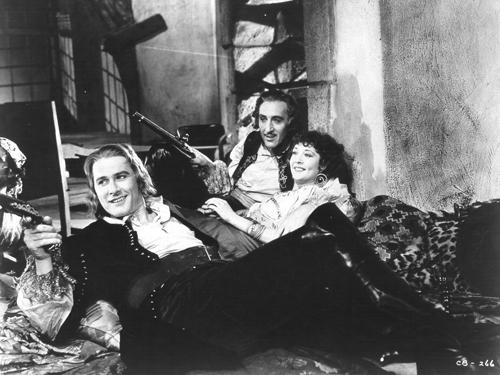 Errol Flynn epitomizes the roguish, swashbuckling captain as a good doctor who becomes a pirate to get revenge on the officials that wrongly accuse him of treason in this stellar adaptation of Rafael Sabatini's novel. Another of his novels was the basis for the 1940 The Sea Hawk.
2. Pirates (1986)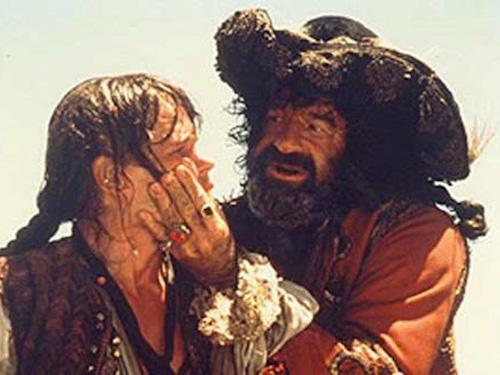 It took 12 years to makes Pirates. Not because it was technically difficult to make, but because the director spent much of that time country-hopping to avoid imprisonment in the US. Surely there's no better qualification to make a pirate movie than that?
3. The Goonies (1985)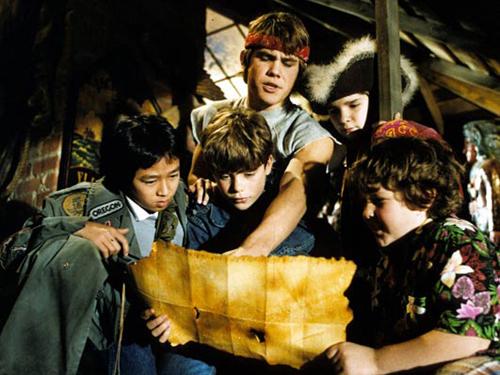 A bunch of misfit kids search for the infamous One Eyed Willie's treasure, hidden behind a perilous path of deadly boobie traps and a frightening encounter with the Fratelli mob. The real villains of the story? The evil land developers. How can you not love a movie that brought us the Truffle Shuffle?
4. A High Wind in Jamaica (1965)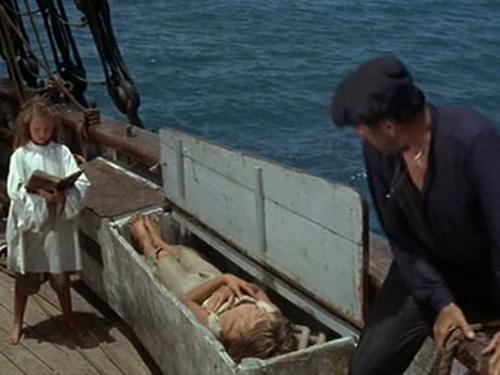 Most Hollywood pirate films are about adventure and a fantasy image of what pirates are like. A High Wind in Jamaica tries to temper that fantasy with a little sense of what real pirate life might have been like. Captain Chavez proves that pirates with soft spots don't last very long. Ultimately betrayed by a child hostage who blames him for the stabbing of a Dutch captain – it's a fairly anticlimactic way to join Davy Jones' locker.
5. Swiss Family Robinson (1960)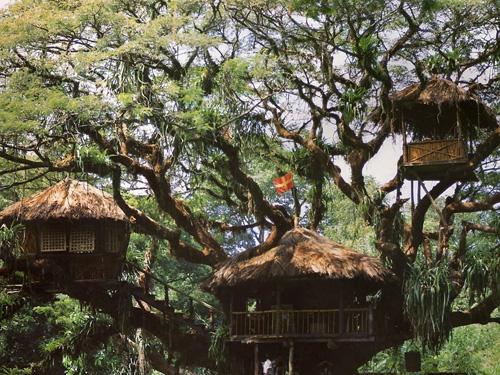 Disney's story of a shipwrecked family is usually remembered for its inventive use of homemade gadgetry, but let's not forget those gadgets were used to defend the desert island from evil pirates. Don't expect laser-sighted coconut bomb launchers, but there's a low-rent charm to this classic.
6. Pirates of the Caribbean (2003)
Johnny Depp plays Captain Jack Sparrow in this adaptation of the Disneyland theme park ride. He captivated audiences and continues to play the character in multiple blockbuster sequels. His take on the conniving captain is to play him like a rock star and to walk as if he were constantly trying to compensate for a swaying deck — even when he's on dry land. Depp revealed that he looked at the Rolling Stones' Keith Richards for inspiration, and in later films Richards made cameo appearances as Sparrow's wayward dad.
7. The Black Pirate (1926)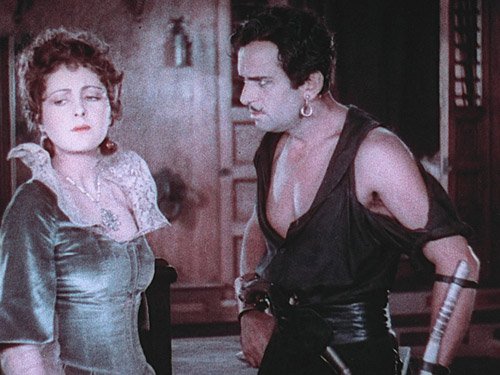 No pirate list can be complete without at least one Douglas Fairbanks film. Here he plays a nobleman who becomes a pirate to avenge his father's death. The ever-exuberant and athletic Fairbanks is great fun to watch and the film boasts an early Technicolor process, making it one of the first color feature films.
8. The Black Swan (1942)

Tyrone Power was a handsome leading man of the 1940s, and here he stars in a vibrant Technicolor pirate adventure. The story involves a reformed pirate captain who enlists former buccaneers to help him rid the seas of pirates. Power is one of the reformed pirates, and George Sanders and Anthony Quinn are two of the troublemakers. Maureen O'Hara is the love interest. A rollicking good time for all.
9. Peter Pan (1953)

Also from Disney comes another iconic pirate: Captain Hook. This animated tale featured is based on James M. Barrie's famous children's book. Hans Conried voices the evil Captain Hook, and he made an impression on many generations of children.
10. Hook (1991)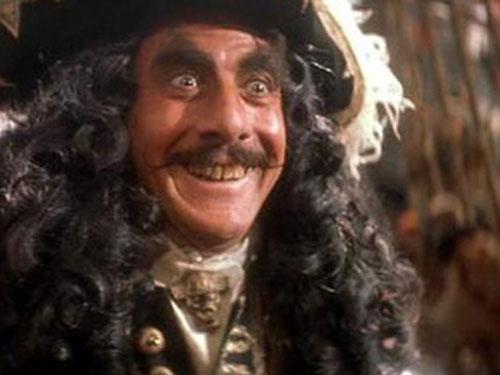 An all-star cast including Dustin Hoffman as Hook and Robin Williams as a grown up Peter Pan help make Hook a film for all ages. And it has the only film scene in which a pirate is eaten by a giant stuffed crocodile clock (as far as we're aware).