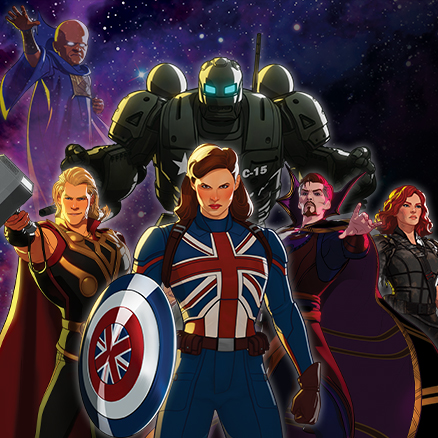 'Space, time, reality, it's more than just a linear path. It's a prism of endless possibilities
Well, gee thanks guys, you guys are so articulate in giving us the information. (sarcasm, obviously)

Instead of 'What If?' the series should be called 'What The Heck Is Going On In This Universe?!'

After seeing so many absurd and insane things we are sure you guys are as wonderstruck as we are! Seeing so many possibilities surely must have blown your minds. And now, only for you guys, the designers of Redwolf dived into the universe of 'What If' and got this amazing collection of Officially Licensed What If Merchandise!

The What If series explores the Marvel Universe if key moments had taken place differently. With the vast number of characters and the variety of scenarios that could have happened, who wouldn't be excited!

Seeing Peggy Carter being the first avenger and looking badass (much like before) definitely was a great start to the series! And watching our skinny little Stevie in the Iron Suit as a soldier is definitely one of the cutest things in the universe!

How can we not mention the Zombie Universe! We can never get tired of watching Buckie kicking some ass. That too zombie ass!

Also, how can we not talk about the Buckie and Zombie Cap fight!
We thought they used to be friends a long time ago. Guessing it really has been a long time.
Well, we could go on and on and on about this because this show has that level of craziness! And inspired by this crazy universe we have got you the most amazing collection of Officially Licensed Marvel T-shirts! Grab now!