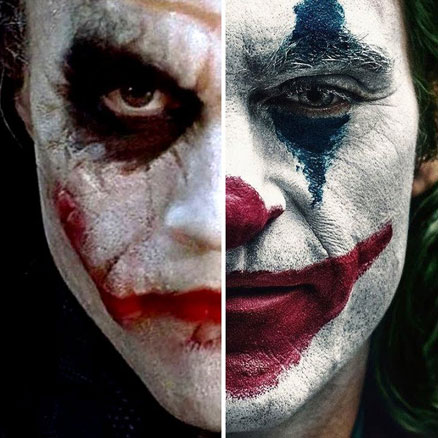 "Introduce a little anarchy. Upset the established order, and everything becomes chaos. I'm an agent of chaos..."
The Joker is arguably the most infamous member of Batman's Rogue's gallery and has proved over the years that he has what it takes to go toe to toe with the Dark Knight.
Redwolf invites you to check out our mad, mad range of Joker T-shirts online - part of our collection of officially licensed DC Comics merchandise.
If you had to judge a character by the actors that have played him on the big screen, then the Joker is an absolute legend. We're talking about the likes of the comic-inspired take by Jack Nicholson, the grounded and fan favourite version by Heath Ledger, the manic, tattooed portrayal by Jared Leto and most recently, the hard-hitting, class warrior version by Joaquin Phoenix.
They have all played the Clown Prince of Crime to great acclaim (yes, Mark Hamill gets an honorary mention here as well) and each actor has managed to show us a different side of the Joker that we have always wanted to see performed on screen.
"I don't wanna kill you. What would I do without you? Go back to ripping off mob dealers? No. No. No! No you- you complete me."
The Joker has always been the yin to Batman's yang. He's deviant and chaotic – attributes that we have tried to capture in our awesome designs. We've got artwork inspired by some of the Joker's most famous appearances in Batman history - including designs inspired by The Killing Joke as well as with fellow fan favourite rogue Harley Quinn!
Undoubtedly, these Joker t-shirts will put a smile on your face. So get ahead of the curve and stop reading, and start shopping! All tees are officially licensed and screen-printed on high quality Redwolf branded cotton t-shirts.