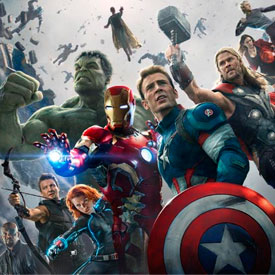 There was an idea to bring together a group of remarkable people, see if they could become something more. See if they could work together when we needed them to fight the battles we never could.
-Nick Fury
The Infinity Stones couldn't get you cooler Avengers T-shirts in India!
Part of Redwolf's Hall of Heroes - we've got you covered for all of your superhero t-shirt needs.
The Avengers began as a group of extraordinary individuals who were brought together to defeat Loki at the Battle Of New York and since then it was quite a journey for them evolving from a team of six to a whole army of superheroes fighting for the universe.
We have managed to capture the adventures of the world's mightiest heroes on tons of cool stuff - so if you're looking for the best Avengers t-shirts online or even posters, mugs or phone cases, we've got you covered. All with free delivery faster than a *snap*.

Dive into the Marvel Cinematic Universe with Official Avengers Tees for both Men and Women in India by Redwolf!