Showing 1 to 1 of 1 (1 Pages)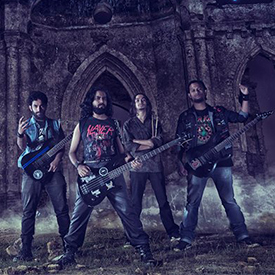 Abaddon meaning Destroyer/Apollyon were Formed in Nov 2012 by long time college-mates Jehosh Gershom and Akash Ponanna .With the vision of creating old school thrash metal with occult heavy metal influences.

Its debut line up had Ankit saxena on Vocals and Sharan roy on drums who made an exit in Dec 2013 .

Later bassist Jehosh took up vocals as-well and the arrival of Samarth as drummer. After playing many shows, the band have released their debut EP on 19 Dec 2014 titled 'Son of Hell', which is presently distributed by Transcending Obscurity.


Abaddon :

Jehosh Gershom - Bass, Vocals
Akash Ponanna - Lead Guitar
Naag Bharath - Rhythm Guitar
Samarth Hegde - Drums
Email Address :
Abaddon.india@gmail.com
Band Page :