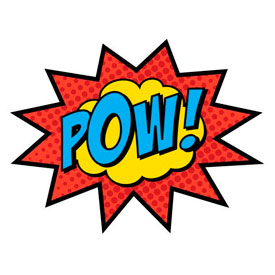 Welcome to "Comic Couture!" Our apparel and accessories brand is a haven for true comic book fans who want to wear their passion on their sleeves, literally! Our designs are a "POW!"-erful blend of iconic comic book characters and pop culture references, creating a "BANG!"-tastic collection that'll make you feel like a superhero every day.
Our threads are the epitome of "KA-BOOM!" style, with vibrant colors, bold graphics, and clever phrases that will make fellow fans do a double take. Whether you're a "Marvel Maniac" or a "DC Devotee," our collection has something for every comic book aficionado out there. From "Spidey-Sense" tingling tees to "Bat-tastic" hoodies, we've got you covered from head to toe in "KABAM!"-tastic fashion!
Accessorize like a "BOOM!" with our "Super Style" collection of "POW!"-erful accessories. From "Wakanda Forever" coasters to "Avengers Assemble" posters, our accessories are the perfect way to showcase your love for your favorite comic book heroes and villains.
So, "WHAM!" your wardrobe into shape with "Comic Couture" and let your inner "Geek Chic" shine. Our designs are so "FANTASTIC!" that you'll be the envy of fellow comic book enthusiasts everywhere.