Reuben Bhattacharya is a name that is well known in the Indian metal scene, commonly as the bassist of the popular groove metal band, Undying Inc. He also is also one of the finest illustrators in the country and is one of the metals scenes go-to guys for creating album artwork, band t-shirts and merchandise under the moniker of Visual Amnesia.
Reuben has over 10 years of graphic design and illustration under his belt working in music, advertising and fashion. He has also worked with some major magazines and well known for winning the 'Design a t-shirt for Slipknot' competition. His art was featured on the legendary band's t-shirts for their 'Summer's Last Stand' tour as well as their Knotfest festival! Some of his work has been featured in publications like Design Inspiration, I.D, Metal Hammer, Rock Street Journal and Rolling Stone India.
We have had the opportunity of working with Reuben on a number of projects. From Indiescvlture project to Official Breaking Bad merchandise. Some of Reuben's latest work, includes these triptych designs for Bhayanak Maut.
I had a chat with Reuben about his style, Visual Amnesia and the Bhayanak Maut designs. Here's what he had to say…
Tell us a little bit about your work and background. How did you develop your signature style?
To cut a long story short. I learned the basics of art watching my mom, dad and elder brother draw, though none of them were professional artists. My work background lies in various creative fields. I started out by studying mass communication and video production in college, went on to train in commercial art, hand lettering and typography, then a got a 3 year scholarship major in fashion design. I worked jobs in export design and print shops (Billabong, Fubu & Quicksilver) jeanswear franchise labels (SF Jeans Co, Lee Cooper, Diesel and Rifle Jeans Italy). I took RSJ (Rock Street Journal) full colour and redesigned the entire magazine, did publication and event design there for 4 years before working at an advertising agency for close another three years. Moving through the grinding hierarchy of assistant designer, designer, design manger to senior art director and creative head before going full time on my own with Visual Amnesia. Simultaneously, I have always been entrenched in the music scene with my band as well as creating art for various other bands along the way. I consider myself a creative nomad and my ever evolving style comes from a combination of all of these experiences, with my early art influences and my childhood obsession with comics, novels, music, movies and general pop and nerd culture.
Tell us about your association with Bhayanak Maut. How did you start working with them?
That's another long story. Well, the band and I have been friends for more than a decade now, I had designed the first ever cover story feature for Bhayanak Maut and there is the old BM-Undying camaraderie of having played some of the most memorable gigs together. They have always been intensely vocal and appreciative of my art. When their last album MAN was being made, I was asked to come on board for the merchandise art and the idea for creating a set of three prints based on three tracks from the album as a triptych was born.
What was one major element that Bhayanak Maut wanted to see in the artwork?
They wanted it to be in my style, which is all. It was very clear from the start and I'm extremely thankful and grateful that they said 'we want it to be you' and trusted me wholeheartedly, it takes a very brave and evolved creative mind to be able to relinquish full creative control to someone who is not an immediate part of the band. They gave me the short stories for the songs and a free hand to interpret the tales visually.
Do you have any creative process or rituals you have before you start working on a project?
That goes without saying of course. The music / lyrics / theme and understanding the client brief is where the art comes from, between those points is the bridge of imagination and the path of inspiration which makes the real difference. The only ritual is to keep on working at it everyday until it gives desired results.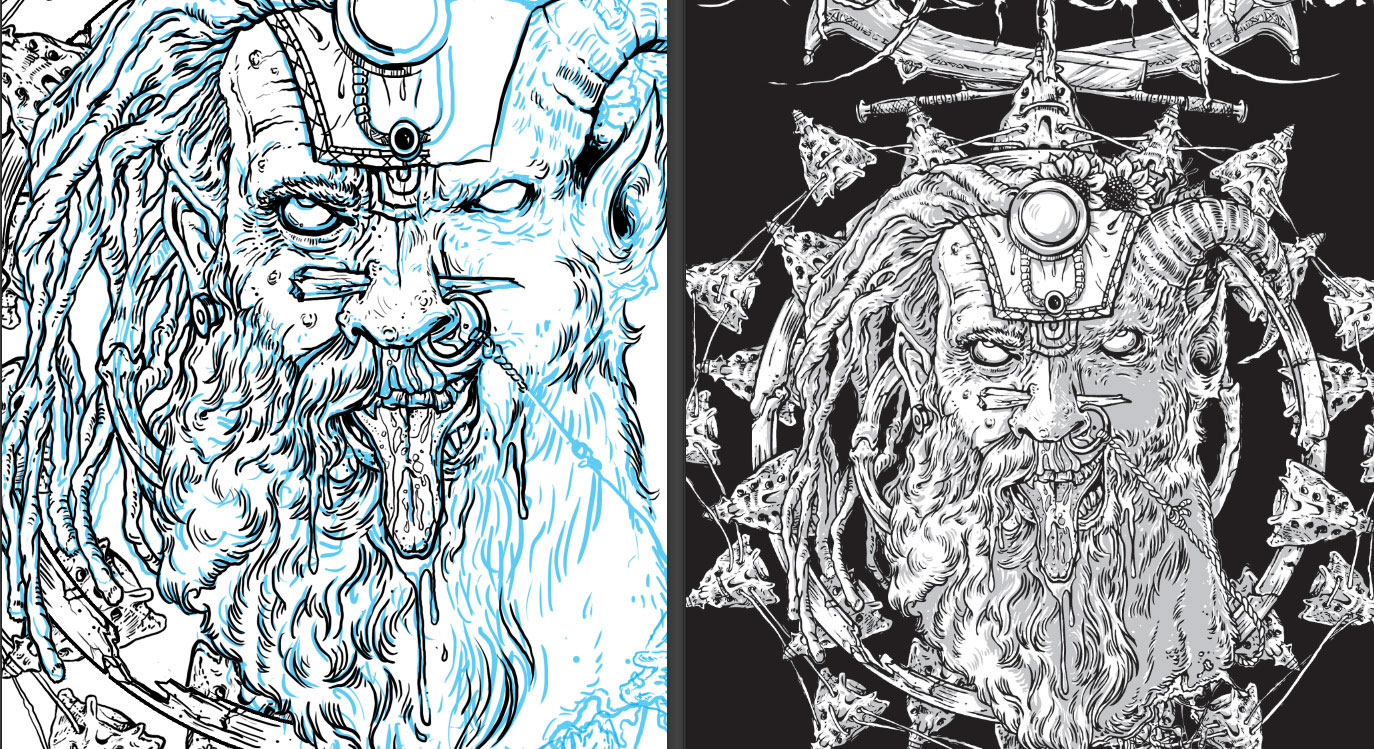 Take us through your process. Do you you have a clear of what you want the artwork to be from the start or do you just start with what you have and then go with the flow and let it progressively develop?
I have no set pattern or secret formula at all. Some of the art starts as a series of rough sketches, ideas that evolve progressively to a final form and some just evolve straight into a certain finished piece of art from a blank canvas. I just start with a vision in my head and then try to find the best possible discipline or medium to interpret the vision. Some happen immediately and well some take longer. It all depends on what the visual story demands and the resulting art grows organically around it; various other factors differ from project to project too, so it is hard to put a formula to it or just go with the flow, it's a fine balance of both extremes.
Keep up with Visual Amnesia –
Redwolf – https://www.redwolf.in/visual-amnesia
Instagram –  https://www.instagram.com/visualamnesiaofficial
Facebook – https://www.facebook.com/visualamnesia
Behance – https://www.behance.net/visualamnesia